The Ecodepur depurwash water recycle system was developed to allow the treatment of water generated in Cars and Machines washing operations. The system can reduce up to 90% water consumed during cleaning. With a slight supplementation to cover water loss from evaporation and transportation the system can almost act as a closed circuit.
This System was developing for Collaboration Engineering Solutions and Products (CESP), to apply in AutoSpa Car Wash, Kingara Road Next to Nakumatt Junction
The system can be integrated into existing facilities or an unburied version to minimize on excavation cost.
How does the system work?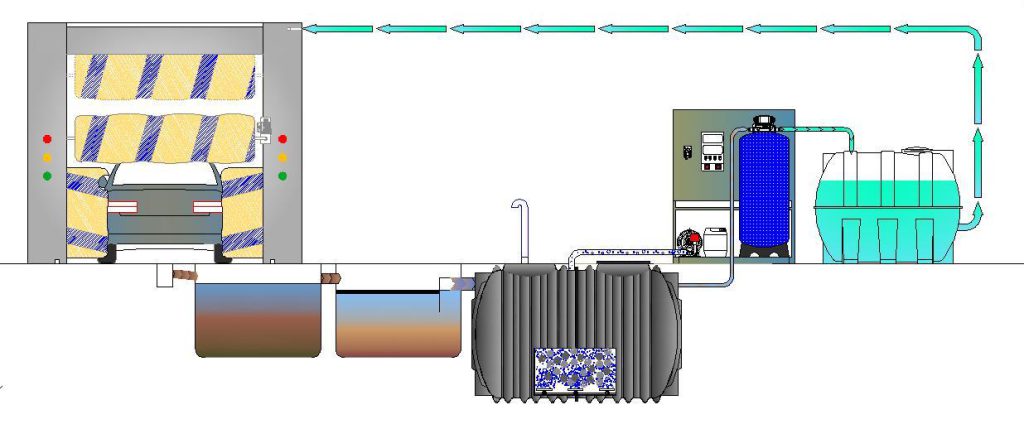 ECODEPUR® DEKTECH
Primary Lamellar settling, with optimized operation by Hydraulic load reduction by introducing a system of lamellae (Lamellar Settling) and by developing "Discrete solids Settlement" process and Plug Flow light liquids flotation.
ECODEPUR® DEPUROIL NS 6 with CE EN858 Class 1
Light Liquid Separator, CE EN858 -1, Class1 (< 5,0 mg/l), with pre-decantation, double coalescent system, automatic closure device with solid float, sampling shaft and cast iron cover, B125 class with "SEPARATOR" inscription according with CE EN 858 – 1.
ECODEPUR® DEPURWASH 1.0
1- Modified Mobile bed Biological Reactor MBBR -NEW ECODEPUR!
The effluent from the Oil Interceptor is routed to a biological reactor to promote the removal of dissolved organic matter from detergents emulsions, chemicals and dirt withdrawn from vehicles. The biological reactor uses MBBR technology (Mobile Bed Bio-Reactor) which is based on the development of biomass in plastic carriers wich float free in the mixed liquor.
The use of synthetic carriers allows the growth of a bigger concentration of biomass per unit volume than conventional systems. This effect makes the reactor more robust and less sensitive to variations of concentration and flow. Toxic events or hydraulic shocks have a much smaller effect on the efficiency of treatment since it does not affect the total population of biofilm and ensures a faster recovery.
To ensure the complete treatment, the system incorporates the addition of bio-enzymes specific for the degradation of hydrocarbons contaminated effluent.
2-Tertiary Polishing and Command module, set up in a ready-to-install metal Skid, with all components pre-assembled in factory under ISO 9001 certified conditions:
After the decanting period which succeeds the aeration/reaction phase, the effluent is pumped to the filtration module. In this step, several physical-chemical phenomena occur in order to remove suspended particles (which are retained the calibrated screens 100 and 25 m) and refractory organic matter (which is adsorbed by the contact surface of the activated carbon granules).
Since adsorbed organic matter will permanently occupy the available contact surface in the activated carbon granules, it will be required monitoring the quality of the treated effluent in order to determine the saturation point of the carbon bed, at which point it will require replacement.
The sequence filtration in synthetic screens and activated carbon system is supplied already installed on a metallic structure which includes also the side channel blower, the dosage bio-enzymes system, and the Electric Panel, ensuring a simplified installation and minimizing working hours.
3-Treated water storage tank
The treated and clarified effluent flows to a storage tank, constituting a ready to be reused water reserve.
The reservoir is fully opaque with black color made with UV protection material in order to prevent the development of algae and other microorganisms during storage period.
4-Booster System
Recycled water booster pumps that will supply the car wash system with treated water. A minimum level probe located in the storage tank will protect the pressure pump to run dry in case of lack of water.
In order to ensure a high functional safety to the recycle line, the ECODEPUR® DEPURWASH WASH WATER RECYCLE SYSTEMS is equipped with by-pass outlet to evacuate excess effluent.
System benefits
Saves on water usage.
Cost savings on water and water tax.
Reduces contaminants released into the environment.
Ease and flexibility of installation (reduced human intervention).
Absence of odors.
Ease and comfort of operation and maintenance (automatic operation/minimizing human intervention).
Low cost of first investment and operation.
Industrial Design (State-of-the-art equipment).
Absence of noise.
Functional safety (hydraulic and sanitary).